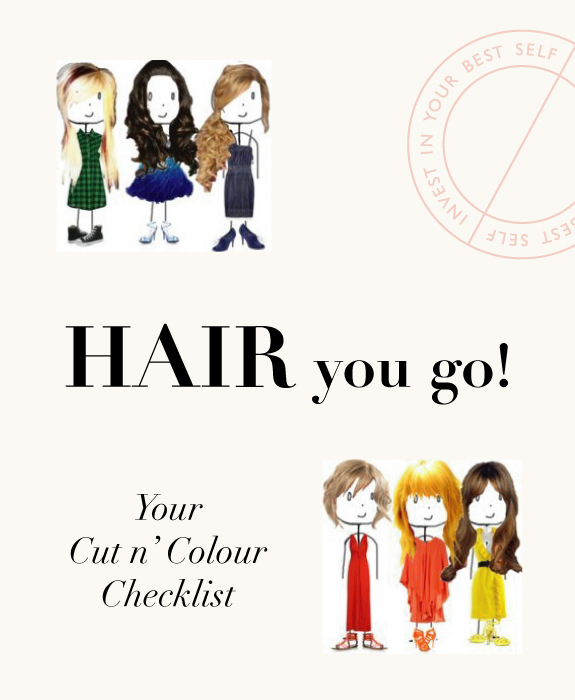 Been inspired by a few amazing hairstyles lately. Not celebrity, even better. Real people with great colour and cuts walking down the street. Thought I'd share my take on this industry where customer service is queen. Having been blessed with the early grey hair gene, my hair salon visits are likely in the thousands by now.  Here are my top 7 hair salon tips:
1.            Say 'no thanks' to skull leaching chemicals.
Never mind that permanent hair dyes with a high chemical composition may stress and dry out your hair.  An even more important concern with hair dye is whether it's carcinogenic. Then there's the fumes you get to enjoy as your hair processes for 20+ minutes. There are so many effective natural options available, ask your salon what brand of hair dye they use and do your research.
2.            Be kind. Colour sparingly!
Many salons only offer a 'full colour' service, but those focused on hair health should book a 'colour express' every other visit. This express service saves you time by just covering the grey along the hairline and crown (where it's noticeable) which is quick, kind to your locks and easier on the wallet.
3.            "Relax! You can't screw up her hair. Just tease it and make it look like a brown football helmet." ~A Magnolia of the Steel variety
Hairstyles do come back; dramatic styles usually only return to the runways. For the most part, hairstyles do evolve. Look to the stylist's own cut for clues to whether (s)he's up to or out of date. Bring photos. Ask questions…lots of questions. "What style is right for my facial shape?" "My hair is naturally _____." Insert words like straight, wavy, curly, thin, coarse, dry, flyaway, thinning, etc. "What styles suit these characteristics?" Working with your hair instead of fighting it minimizes morning prep time.
4.            "I'm not offended by all the dumb-blonde jokes because I know that I'm not dumb.  I also know I'm not blonde."  ~Dolly Parton
Fact: 95% of the time, an enhanced natural colour is best! My blonde clients never want to hear this, but the trouble with blonde is that over time you just keep getting blonder and blonder and blonder. There needs to be a re-set or benchmark (photos are handy here) to avoid hair that was once dirty blonde ending up bleached in just a few short years. This goes for brunettes and red heads alike. Keep a check on how far from your natural you stray.
5.            There's more to you than just your hair.
Common sense, I concede, but it's clearly not common enough as I've witnessed far too many salon disasters that make the hair stand out above all (chunky highlights, tons of ash & golden blonde mixed together, or over dramatic cuts meant for the runway), at the peril of the poor client's complete image. A talented hairstylist or colour technician takes into consideration your entire 'look'. You want people to look at YOU, make eye contact and see a whole harmonious image, not just notice your hair.
6.            Stylists that know their own limits.
Hairstylists and colour technicians all have different techniques, strengths and weaknesses. Some of the more advanced salons have specialists, as well as dualists. Specialists specialize in either cut or colour, not both. They focus and master their craft. And a salon that encourages you to switch up your stylist gains far more points in my book, than those stylists that treat their clientele like a clique where you're either 'in' or 'out'. I'm out, thanks!
7.            The NOT so little EXTRAS.
The salon industry is fiercely competitive. There's someone to cut or colour your hair on every main street, in every mall, and strip plaza, not to mention stylists that work from home. Appreciated extras are a matter of personal preference. For me, my salon shows me they love my locks and more by offering these extras: an essential oil shoulder massage after service, scalp massage while shampooing, make-up touch-up optional on my way out, occasional hand massages from non-busy RMTs or nail polish changes from the aesthetician with ten minutes to spare, current magazines to read, variety of refreshments (not just coffee), unobtrusive music, and they never let me leave the salon with wet hair (at no extra charge) on those visits that only a colour is needed, no cut.
Well, that's 7. I have another 77 and I'm sure there's a ton of experience out there, so feel free to share below. Let's give those client-focused hair salons some honest feedback and inspiring ideas!
Written by Janelle Long of Janelle Long Image Management.